MOST EFFECTIVE & ADVANCED TECHNIQUE FOR STACK / DUCT / CHIMNEY / E.S.P. / BAG-HOUSE EMISSION MONITORING.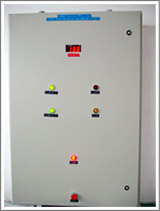 Stack Monitoring for Suspended Particulate Matter (S.P.M.) is greatly simplified and improved by the use of "CONTINUOUS EMISSION MONITORING SYSTEMS (CEMS) / STACK MONITORS / DUST MONITORS". The Sensor of the CEMS / Stack Monitor / Dust Monitor is mounted on the stack / duct. The CEMS / Stack Monitor/ Dust Monitor is calibrated by determining the existing S.P.M. level using Thimble / Iso-Kinetic Process. The CEMS Device continuously displays the S.P.M. or Emission level in terms of mg/nm3 or any other units of measurement - in an on-line manner. A 4 to 20 mA DC Analog Output is also provided for recording or control purposes & integration with the Central Control Room.
The Continuous Emission Monitoring Systems (CEMS) / Stack Monitors/ Dust Monitors are indigenously manufactured. We manufacture models based on the internationally accepted & widely approved principles like -
"LIGHT SCATTERING" principle
"ELECTRODYNAMIC" principle
"TRIBOFLOW" principle
All these principles are internationally and universally approved by several Environment Agencies including USA (EPA i.e. Environment Protection Agency) and TUV Germany.
These instruments give a CONTINUOUS display in mg/nm3 of the emissions / suspended particulate matter in the stacks / ducts / chimneys which are being monitored. The instrument readings will closely match those you obtain by iso-kinetic / thimble process measurement.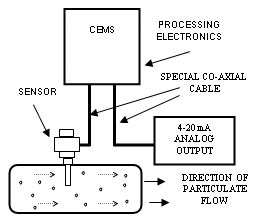 KEY FEATURES OF THE CEMS
Accurate and Reliable Readings, directly in mg/nm3 or any other units of measurement.
Facility to display instantaneous emissions as well as average emissions.
Time period for averaging emissions is user determined.
4-20mA Output available for interface with Central Control Room Systems for Charting / Tabulating / Recording etc.
User Determined Alarm Set Points to indicate high emissions.
Minimal Maintenance Required.
No Moving Parts or Consumables.
Long Life of Instrument.
Frequent calibration / setting / alignment is not required.
Easy to use and operate.
Sophisticated since it is micro-processor based.
Low Cost and High Quality.
APPLICATIONS OF STACK MONITORS / CEMS:
CONTINUOUS EMMISSION MONITORS & DUST MONITORS are indigenously developed by us and are extensively used in Cement Mills / Thermal Power Stations / Mining & Metal Processing Industries / Textile Mills / DG GenSets / Kilns / Paper Mills / Fertiliser / Iron & Steel Industry / Incinerators / Sugar / Boilers & Scrubbers & Carbon Cutters / Chemical & Pharmaceutical plants & for that matter all Process Industries for variety of applications, namely :
ON-LINE CONTINUOUS MONITORING OF EMISSIONS FROM ELECTRO-STATIC PRECIPITATORS (E.S.P.s) / BAG HOUSES / CYLCONES & OTHER EMISSION CONTROL EQUIPMENT.

Stack Monitoring for Particulate Matter (P.M.) is greatly simplified by the use of "STACK MONITORS". The sensor of the Stack Monitor is mounted on the stack and the existing P.M. level is determined using Gravimetric Methods (Thimble Process / Iso-Kinetic Process). The Stack Monitor is then calibrated to display the P.M. or Emission level in terms of mg/Nm3 (or any other units of measurement of your choice), which provides a continuous on-line reading. A 4 to 20 mA DC Analog Output can also be used for recording or control purposes. Any other form of output is also optionally available.

Since Stack Monitors can measure the Rate of Emission, they are used for -

Continuously Monitoring the Emissions in any units of measurement.
Ensuring compliance with the Pollution Emission Norms.
Monitoring the performance of E.S.Ps / Bag Houses & check whether they are working efficiently or not.
Ensuring effective dust removal from dusty environments by monitoring the exhaust duct.
Ensuring effective dust removal from dusty environments by monitoring the exhaust duct.

Continuous Monitoring by Stack Monitors has another big advantage of enabling plant personnel to understand the production process better - for example, if the quality of coal supplied to the burner has changed & subsequently there are greater emissions for the same process conditions, the Stack Monitors will indicate that this supply of coal is inferior to the earlier one.

ENERGY SAVING BY MONITORING / CONTROLLING OF E.S.P.s

With increasing P.M. emission, more power has to be supplied to the E.S.P.s to maintain the P.M. emission level within permissible limits. Due to changes in the process conditions / parameters, the P.M. level may fall considerably, but the E.S.P. continues to consume the same amount of power. The STACK MONITOR instantly detects this, and its 4 to 20 mA DC Analog Output can be used to reduce the power supplied to the E.S.P. or even cut out an E.S.P. stage, ensuring at all times that the emission levels are within acceptable limits.

TO MONITOR THE FLOW OF PULVERSIED FUEL TO THE BURNERS

The Sensor of the SOLIDS FLOW MONITOR is mounted on the pneumatic lines conveying the powdered coal from the pulverising mills to the burners. The fuel feed rate displayed for attaining a particular temperature is a good indicator of burner efficiency. The 4 - 20 mA DC Analog Output is used to control the fuel rate for optimum burner performance. Maintaining the same feed rate in all lines ensures uniform burner performance. Further, if flow failure occurs in any line due to choking etc. prompt action can be taken. Timely detection of flow feed failures can prevent lot of problems arising from material starvation, e.g. - lower power generation and in extreme cases even tripping, leading to power failures.

FLOW RATE MONITORING & CONTROL OF MATERIAL FED TO HOPPERS / SILOS / BINS etc. THROUGH CONVEYORS / CHUTES / PIPES / DUCTS etc. ENSURING SMOOTHER FLOW / STORAGE OF MATERIAL & SMOOTHER PRODUCTION

SOLIDS FLOW MONITOR can provide a totalised output (in any unit of measurement) of powdered material fed to or released from silos / bins / mixers etc. which simplifies material handling, storage and distribution. It can also be used as a LEVEL DETECTOR, to indicate when the material reaches a specified level in a Hopper / Bin / Silo.

MONITORING OF CYCLONE EFFICIENCY / OVERFLOWS

The P.M. level at the output of the cyclone is a good indicator of cyclone efficiency. A gradual increase in the level indicates a deterioration in efficiency and a sharp increase signifies an overflow condition. Detection at this point with the use of the SOLIDS FLOW MONITOR prevents further problems downstream and ensures smooth production.

BROKEN BAG DETECTOR FOR FILTER BAG HOUSE

Our Broken Bag Detector can not only give an alarm AS SOON AS a Bag Tear occurs in the Filter Bag House, it can also provide you with an "ADVANCE WARNING SIGNAL" before the Bag Tear actually occurs. The 4-20mA Output of this instrument will give an early warning when the filter bags develop small cracks / tears – giving an advance warning of an impending bag tear. Necessary preventive maintenance action can then be taken. The System will also give an indication of the occurrence of Bag Choking. Apart from giving an immediate indication of a Bag Tear, the System will also help isolate which Bag Section contains the Broken Bag or Bags. It will also be possible to isolate the exact bags which are torn and which need to be replaced.